Russian government is against sex with foreigners
The development of the Internet gave us freedom of expression that is known to be the voice of democracy. You can feely post various reflections in your timeline without a fear of being punished. That is seen as a triumph of the human rights.
Naturally, when you come across a fact of censorship, state control of the public opinion or restrictions on freedom of expression, you feel confused. Even more you are surprised at the fact that a government may try to control personal life of its citizens. That's why when international newspapers came out with headlines that "Russian woman being told not to sleep with foreigners", it stirred vivid interest of the audience. World public opinion had been discussing this news for weeks.
But are the things really as they seem or the true information had been altered and misunderstood? What are the roots of the situation? Let's try to figure it now, using original sources.
The events took place back in June 2018, before FIFA World Cup 2018 that was held in Russia. The Chairman of the State Duma's Committee for Family, Women and Children Affairs, Tamara Pletneva made a scandalous statement during her interview at the Moscow radio station. The 70-eyears old politician said that Russian women should avoid intimacy with foreigners who would come to the World Cup. In her opinion, young ladies would have only troubles and disappointments if they started relations with foreign men. She said that even if such couples marry and relocate to husband's country, in case of the divorce, children are most likely to stay with a father. And later, these unfortunate women come to the Committee for Family, Women and Children Affairs, asking for help. The politician suggested creating families with residents of Russia, even if they are of other nationality.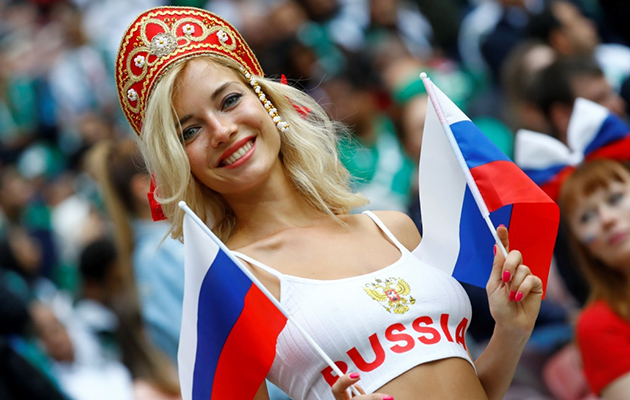 She compared the upcoming World Cup 2018 with the Olympic Games 1980 that were also held in Russia (the USSA at that time). To tell you the truth, there is a rational thought in her ideas. But don't be too fast to judge, let me explain it first. The USSA was a politically closed county with a few foreigners coming there. However, for the Olympic Games, the borders were open for fans. Lots of young ladies were charmed by foreigners who were so different from local men. Some love stories had happy endings and young couples managed to leave the USSA. They moved to husband's country and lived happily ever after. But these stories are rather exceptions of the rule. Most foreigners left the country, without even knowing that they were going to be "fathers". Single mothers had to raise children alone. That was really tough, especially if kids were of a mixed race. These children were so different in the Soviet society. They had to face misunderstanding or even mocking at school. Now the Russian society is much more multicultural than at that time.
Keeping in mind events of those days, Tamara Pletneva suggested Russian women not to sleep with foreigners
Her statement caused a huge media response. Everyone seemed to discuss it. Some people supported her, some, on the contrary, thought her words being nationalistic and racist. Press secretary of the President, Dmitry Peskov told to journalists that Russian women, being the most beautiful in the world, could decide themselves with whom to sleep.
As you see, the scandal roots in one ordinary interview. Russian government did not issue any law, prohibiting sex with foreigners. Russian journalists made a big stir that was reflected in the world news.
But what if the words of Tamara Pletneva are just a reflection of the public opinion? Are people in Russia totally against international marriages?
The statistics says different. The number of the international marriages is constantly growing. If in 2000 there was 6 % of international marriages, in 2017 this number was doubled. The development of international dating sites and agencies contributed to this phenomenon.
Lots of young ladies dream about their Mr. Right from abroad. This desire is caused not only by the prevailing number of women in Russia, but also by the fact that many Russian men do not treat women right. Laziness, rudeness and alcoholism of Russian men push women to search for happiness elsewhere. For these reasons, young Russian girls try to use any possible chance to get a foreign man. Some girls still naively believe in love after the first sex. What a delusion!
The truth is that not all foreigners are gentlemen. Many of them see a visit to Russian as sex tourism. They date with many girls, have sex and then give empty promises, breaking hearts. Such fact also makes Russian government protest against sex with foreigners because single mothers require financial support from the country. In addition, when beautiful and smart Russian girls marry foreigners and leave Russia forever, they affect the genetic fund of the nation.
So, maybe The Chairman of the State Duma's Committee for Family, Women and Children Affairs just expressed the common opinion, existing in the society. We can never know it for sure! What is your opinion about that?